I am linking with the wonderful Kim Klassen again this week. Her challenge was to put some words on a picture, and use at least one of her textures. This is so far out of my comfort zone!
I went for a couple of song lyrics.
The first, by the amazing Van Morisson which I have to confess to using before on a Valentines card to my husband many years ago. And the second is a very pretty song by Bob Marley which we sometimes sing at my song club.
I took this picture of my husband on his birthday this week and just put one layer of Kim's vintage overlay on but I though the word was a bit mean so I took it off! (the word not the overlay, sorry Kim). The pretty red colour in the back ground is a beautiful Acer that I bought him for our Wedding Anniversary so I just wanted a subtle texture, the overlay was perfect.
Have I told you lately that I love you?
Have I told you there's no one above you?
Fill my heart with gladness, take away my sadness
Ease my troubles that's what you do

There is a video here of this lovely song.
The little green bird hangs on a branch in the garden. The pretty song by Bob Marley came to my mind and I wondered if I could make the one little bird into three little birds but I need more photoshop practice…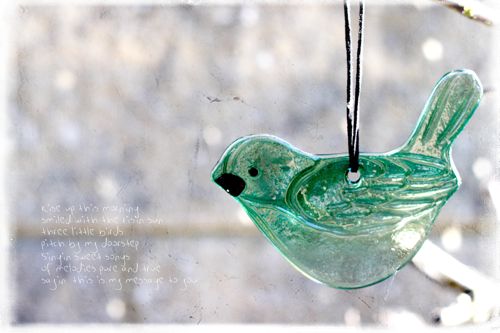 The little bird has one layer of Kim's Plaster 2 at soft light lend mode and a layer of her Magic Edges.
Rise up this mornin',
Smiled with the risin' sun,
Three little birds
Pitch by my doorstep
Singin' sweet songs
Of melodies pure and true,
Sayin', ("This is my message to you-ou-ou:")
Here is a YouTube video of the song