Sian, she of the good ideas, is hosting a monthly story telling club. I really love to join in with this. I love to read other peoples stories but an added extra is that the stories sometimes spark off memories in me that I had long forgotten … like this one.
Actually, I wasn't going to join in Sian's story telling Sunday today because I wrote a story last week, for today, but reading it again last night, I decided not to publish it. But then this came to light this afternoon.
Last week I was visiting at Project 64 for the Yellow Orange challenge and came across this picture.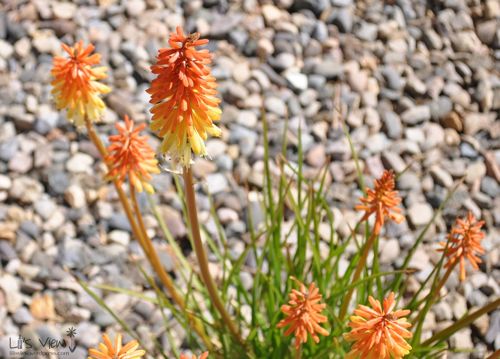 It brought back a memory so I wrote to Lili and asked her permission to use it. Of course she said yes!
When I was a young girl the walk to the shops or church involved walking past a couple of houses I didn't like going past, both for different reasons.
One house had a lot of 'big boys' living there. They had cars and bikes and 'things' all over the front of the garden so I avoided it because it scared me. I can understand that even today.
The other house actually belonged to my mother's friend Grace. She was not scary at all, rather nice in fact but, in her garden there was a huge bed of extremely tall Kniphofia. They used to scare the wits out of me! They were taller than me and waved about menacingly as soon as I went near them. I couldn't bear to look at them, the colours were horrible and I thought that if one touched me I would surely die!
No, I have no idea why I had such a vivid imagination. Probably having lots of horrid brothers didn't help.
My mother said that it was only a poor 'ole plant, it had a pretty red and orange flowers.
No it wasn't pretty! and it was called Red Hot Poker! For goodness sake even the name is scary. Perhaps it would burn me to death! I think I thought they might be the flowers of hell. Well, do you know I still can't bear to look at them! I don't think they are in the least bit pretty and I don't really like red or orange and yellow together.
Thank you Lili, your picture is beautiful and not scary but to me the flower is not beautiful and it is still scary.
There will be wonderful stories over here today, take a look?